Best LED grow lights for lettuce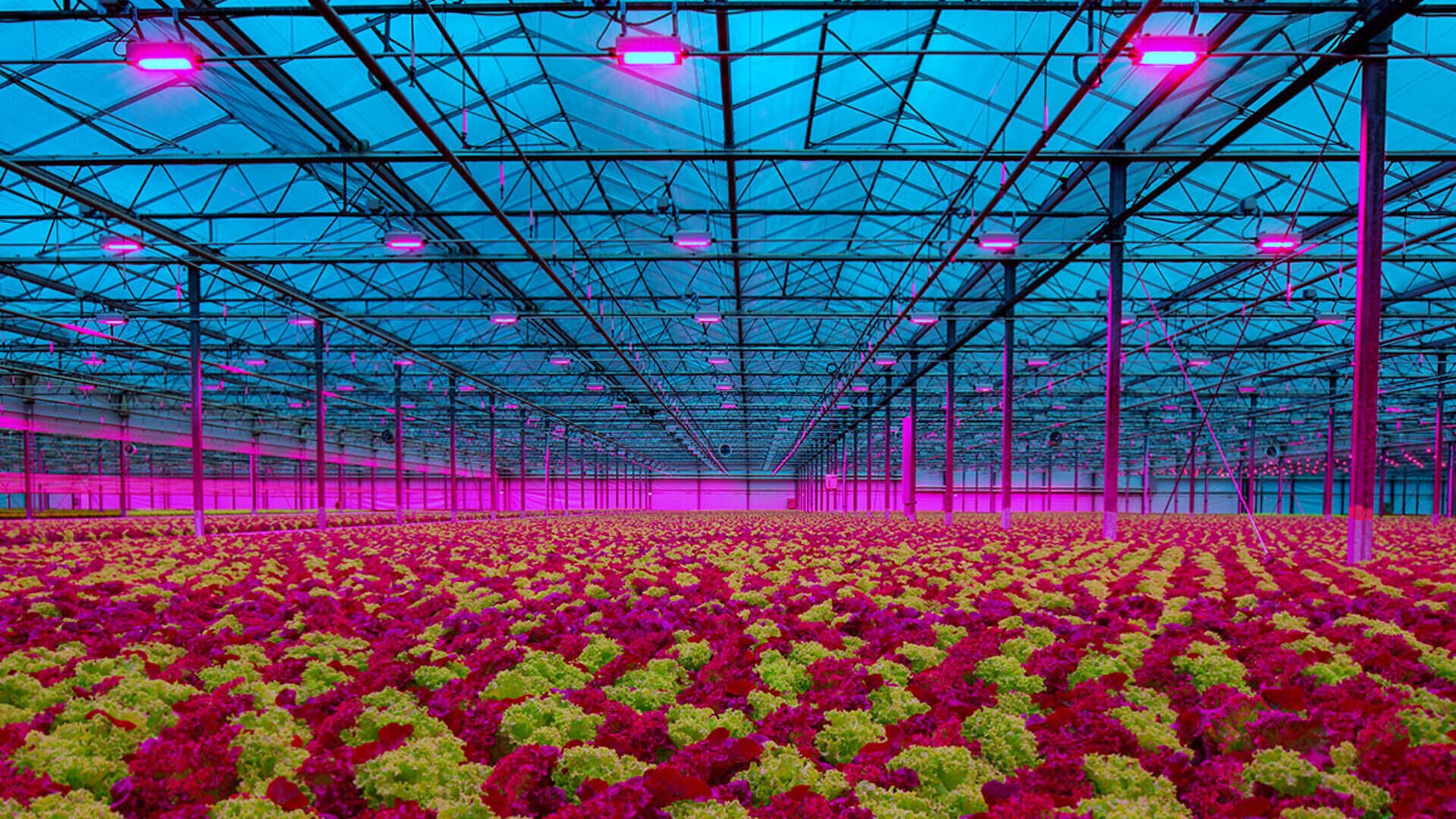 Growing lettuce indoors under LED lights, thus growing under glass, is beneficial for the crop and the grower at the same time! Oreon's LED fixtures work with active water cooling. This unique technology makes it possible for the fixture to contain more LEDs and therefore produce higher lighting levels. However, the LED fixture is still compact and can therefore be attached directly below the existing trellis, creating the least possible shadow effects inside the greenhouse.
The LED grow lights for lettuce are beneficial for the lettuce itself as well. The LED lights enable you to adjust the light to the growing phase the crop is in. This makes it possible to set the optimum growing circumstances. Additionally, you are able to control the lighting hours and manipulate the growing cycle. This results in in year-round consistent yield and extra growth cycles per year!
Our products
How do LED grow lights influence lettuce?
You can use LED grow lights for lettuce with a custom-made light spectrum to influence the quality of your crops in many ways. The right proportion of red and blue LEDs help to ensure a better leaf structure, less tip burns and better red coloring. The lettuce is more compact and contains more dry matter, which benefits its taste. All of this ultimately results in fewer losses and lower labor costs.
More about LED for vegetables
LEDs help to ensure a better leaf structure, less tip burns and better red coloring"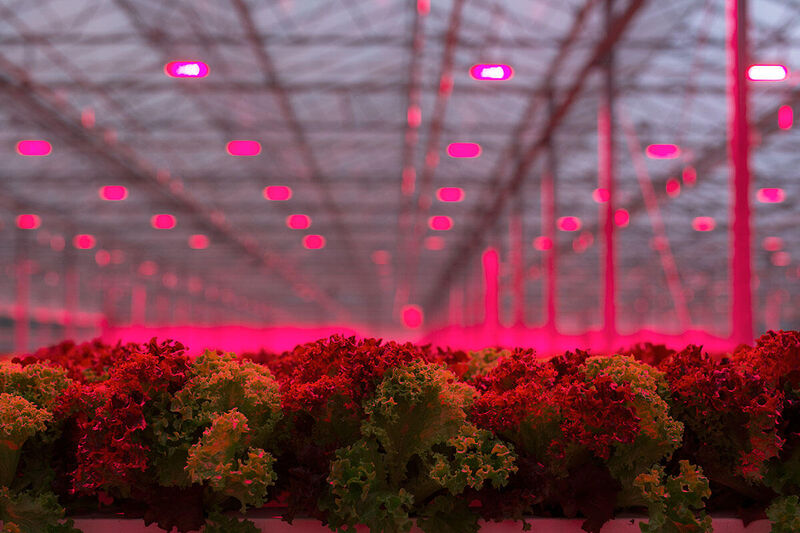 We aim to maintain high quality and volumes throughout the entire year"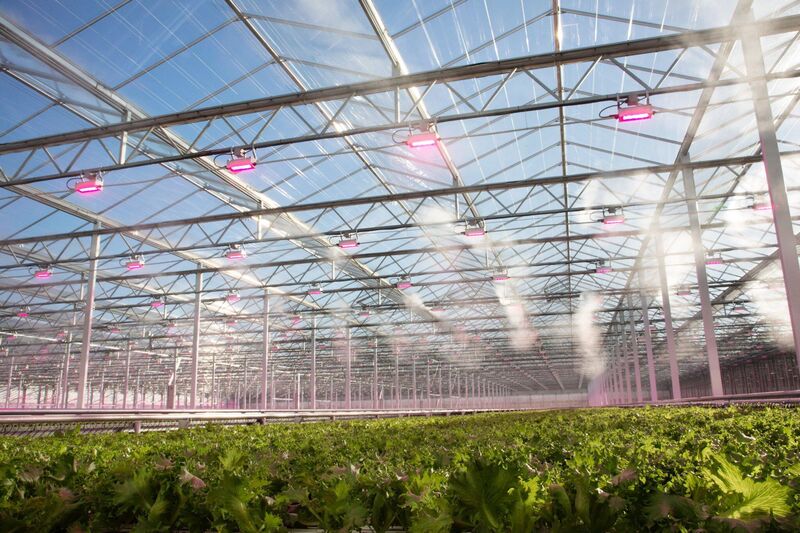 The experiences of other lettuce growers
Little Leaf Farms provides consumers in New England (USA) with fresh, locally grown lettuce throughout the year. Their goal is to grow lettuce without pesticides and have the lettuce in the supermarkets within 24 hours after harvesting. They grow lettuce hydroponically under a hybrid lighting system, which makes the lettuce also grow faster in the winter. The ultimate aim with LED lighting is to eliminate the seasons, to create the optimum lighting conditions for each period to maintain a high product quality and high volumes all year-round.
Read more about Little Leaf Farms
The perfect light plan for lettuce LED grow lights
With the installation of two or three 'Dutch Powerhouse Monarch' LED fixtures in a 60 m2 section, it is possible to achieve 100 or 150 µmol/m2/s with an extremely high uniformity. This means that fewer LED fixtures are required in the greenhouse, resulting in savings in terms of the required investment and installation costs, as well as reduced power consumption. Want to know what the amount of fixtures would be for the perfect light distribution in your greenhouse?
Request a light plan
Fewer LED fixtures are required in the greenhouse"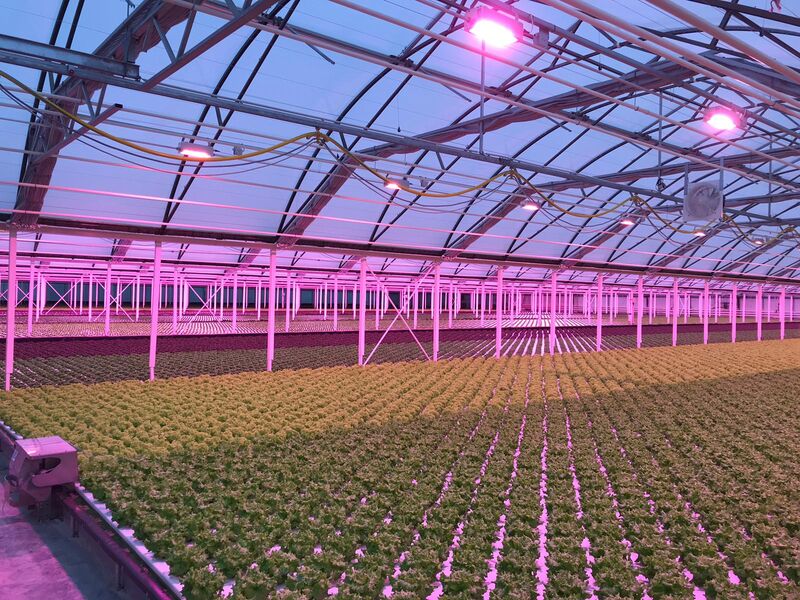 Start with LED grow lights for lettuce
Start with LED grow lights for lettuce
The active water cooling that Oreon's LED lights for lettuce use, provides for a more constant cool temperature inside the greenhouse. This is perfect for lettuce and also allows for longer periods of lighting independent of heating up the greenhouse. Furthermore, ventilation requirements are reduced, which reduces the unnecessary loss of CO2. The heat from the fixtures discharged by the water can be reused in various ways.
When is the right time to start using LED in your greenhouse? In our view the right time is NOW! Despite the turbulent times in which we are living, the global demand for fresh food will continue to increase. LED developments are occurring in rapid succession, but you could make use of all the benefits from LED grow lights for vegetables and save on energy costs right now.
It is understandable that starting to make use of or migrating to LED lighting is not an easy decision. With the knowledge and experience we have gained over the last 15 years we are pleased to help you make a well-considered choice. We are happy to develop a custom-made lighting plan for you without any obligation.
Interested or need more information? Contact us!