Oreon LED Control Center
Oreon LED Control Center
The Oreon LED Control Center (OLCC) enables the grower to control their assimilation lighting with unmatched precision. The lighting installation is dynamically controlled by a fine mesh network, which is formed by all the lamps in the greenhouse or cultivation area. This allows the grower to respond to fluctuating light needs and energy rates. The result is the exact desired amount of light at any time or place at the lowest possible cost.
The OLCC can easily be controlled via the climate computer. As a result, no custom solution is required to integrate the lighting into the climate and energy management system.
OLCC gives the grower maximum flexibility. Dividing the lighting into groups is very simple: 'with the push of a button' the lamps are divided into groups. The lamps in a group are uniformly controlled. For example, if all are set to 50% and there is more shade in a part of the greenhouse, you can increase the intensity in that area (group) to 70%. The number of groups you can have is unlimited, and it's easy to arrange or adjust them.
The system is so flexible that, if desired, each lamp can be controlled individually. If you have 1000 lamps, you can make 1 group of 1000 lamps or 1000 groups of 1 lamp and everything in between. The most practical thing is to match the number of groups with the possibilities/settings of the climate computer.
Alongside controlling the lamps, the OLCC also provides information about each individual lamp, such as temperature, voltage and power consumption. This allows you to monitor the entire lighting system at lamp level.
Oreon lighting, in combination with the Oreon LED Control Center, offers the most ambitious growers the opportunity to illuminate their crop smartly, flexibly and optimally.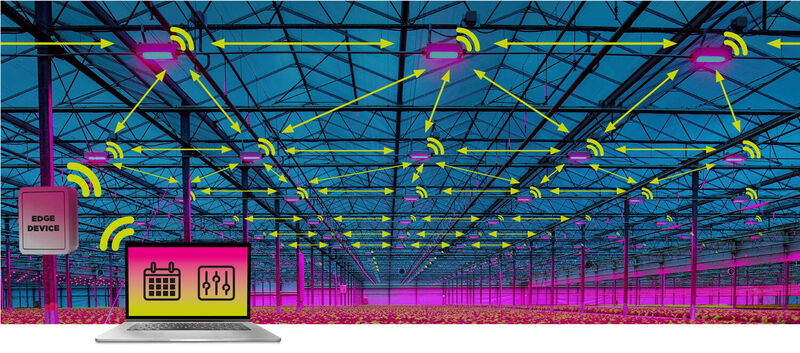 SPECTRUM
The spectrum of the multi-layer lights are dynamically adjustable.
DIMMABLE
The light intensity of both top lights and multi-layer lights is adjustable.
UNIFORMITY
Regardless of the light intensity, the uniformity is always the same.
ENERGY SAVINGS
The LED fixtures can be switched on or off at any time of the day.
FLEXIBILITY
Grow areas (or layers) can be divided into an unlimited number of groups.
CONTROL
Simulate sunrise and sunset and respond to fluctuations in sunlight.
Specifications
GREENHOUSE

Assign fixtures to groups

Unlimited number of groups (10,000+)

Dimming per group

Group assignment is flexible
EDGE DEVICE

IOT Edge Device connects network to cloud platform

Only wired ethernet connection needed
CLOUD

Access through Oreon cloud platform

Create schedules for the dim level

No limit on number of light intensity changes per day
Take a look at these Dutch Powerhouses of Oreon
Contact us for more information